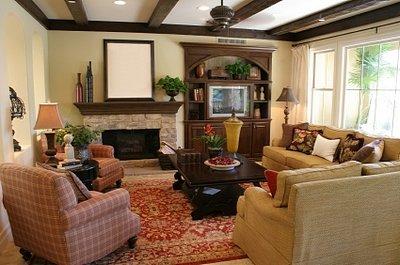 Room size, color, lighting, and personal preferences are all considerations in arranging living room furniture. Interior designer Mally Skok shares seven tips to help make your space more inviting.
The "McMansion" trend of the 1980s is over, says Mally Skok, an interior and fabric designer with a visually pleasing and comfortable style. She says smaller rooms are more inviting and easier to furnish, and recommends breaking up big rooms into conversation areas. "You don't want to be shouting across a room," Skok says. "You want to create small intimate spaces."
Skok's seven tips to arrange furniture in a living room start with a time-honored, easy trick to transform a room from big to small.
1. Divide Large Rooms in Smaller Spaces
Arrange two sofas back-to-back in the middle of the room. This splits the space in the room in half. Next, place large tables and reading lamps on either side of the sofas to create two quiet reading areas. If one side of the room seems empty, place small tables and a bunch of comfortable upholstered chairs. "What you've created," Skok says,"is a nice place that isn't the kitchen or dining room to sit and have tea or enjoy a sandwich."
2. Unclutter Small Rooms
Use multi-purpose, freestanding furniture. Choose simple, breezy furniture with clean lines," Skok says, so as not to clog up the room. A very old trick is a banquette — a small bench-like seat that's placed right up against the wall. Cover the banquette with a simple linen ikat pattern. Toss in a few small pillows for a bright pop of color. Around the banquette, you can place little cocktail tables with steel legs and little stone tops in different shapes. The arrangement is easy to move — push them together or pull them apart at your convenience.
3. Knock on Wood (or Faux Wood)
Solid hardwood furniture is making a comeback with young designers. One company, Hickory Chair, specializes in middle- and high-end wooden furniture with fabrics and stable construction. "There's nothing staid or boring about this wood furniture," Skok says. Organic furniture is also popular now with designers using recycled timber and Hessian twine. Furniture in shapes that evoke nature is very on-trend — chair legs that look like branches. Another fresh look is faux bois – fake wood that looks like it comes from the woodlands.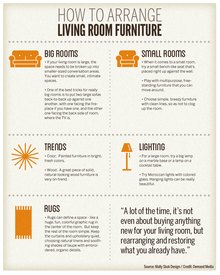 4. Add a Splash of Color
Pick paint furniture in bright, fresh colors … pinks, greens and purples that look like a preppy outfit … but in a very cool way. Or paint your own. "A lot of the time," Skok says, "it's not even about buying anything new for your living room, but rearranging and restoring what you already have." You can always temper painted furniture with earth-tone accessories – for instance, Asian pottery placed carefully around the living room.
5. Set the Mood with Lighting
Decide between lamps or an overhead modular lighting system – or mix it up. For a large room, consider a big, gorgeous lamp on a marble base or a lamp on a cocktail table. If you don't have the room for cocktail tables, then install the overhead system. Another option is Moroccan lights with colored glass. Hanging lights can be beautiful, Skok says, especially hanging lights at different levels over a banquette.
6. Get Down with Rugs
Define your space with a rug – a huge, fun, colorful pattern –in the center of the room. To make sure the rug becomes the focal point, keep the rest of the room simple and serene. Keep curtains and upholstery quiet, choosing natural linens and soothing shades of taupe with embroidered, organic details. "You want your fun in the center of the room," Skok says, whether it's a rug, pillows, and little antique pieces on side tables with bright bursts of color.
7. Add a Little of Yourself for a Finishing Touch
Make your room your very own with personal details. "Paying attention to detail makes people feel they are in a special place," Skok says. When she does on vacation, she collect trinkets — shells, a little bowl — and places them around her living room. Carefully arranged books and photographs become artwork on your shelves and walls, she says. "Go outside and pick up a stone on the beach and put that amongst your books. Finding that little thing that makes you happy can pull your living room up to the next level. It can even be a stack of "National Geographic" magazines with that great pop of yellow on the cover — anything that tells the story of your life and says,Yo, I'm alive!"